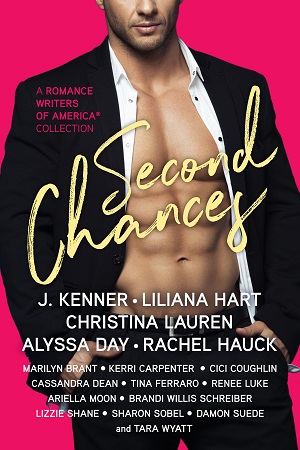 Do you believe in second chances?

Romance Writers of America brings together seventeen of today's hottest authors in an anthology of never-before-published tales that reveal true love always deserves a happy ending.
Follow New York Times best-selling authors J. Kenner and Christina Lauren back to reader-favorite worlds.
New York Times bestseller Alyssa Day sprinkles djinn magic in her humorous paranormal romance, while Rachel Hauck brings the enchantment of the holidays in her New Year's Eve contemporary love story.
And Liliana Hart delivers thrills and adventure in her characters' search for the impossible.
With characters who find love through tough situations, in an elegant 1800s ballroom, with an old friend who shows up when least expected, at a tender age when cliques and homework get in the way relationships, or after a random encounter in an unlikely setting, Second Chances delivers romance to strike every reader's fancy.
Plus tales from:
Marilyn Brant, Kerri Carpenter, CiCi Coughlin, Cassandra Dean, Tina Ferraro, Renee Luke, Ariella Moon, Brandi Willis Schreiber, Lizzie Shane, Sharon Sobel, Damon Suede, Tara Wyatt


'Scandalous'
The dissolute Earl of Edgington is the last man Miss Sofia Hargrove ever wanted to see again. Ten years ago, she fell foolishly in love and, worse, she thought he loved her in return. Recklessly, she indulged her passion in a moonlit garden….and was caught. Ruined, she ran to the Continent, and then was devastated again when he didn't follow. Now, at a London ball, he stands before her and begs for a chance to explain.
Edgington knows Sofia will never forgive him. For ten years, memories of her have haunted him, but his memories pale next to the bright, vibrant woman she's become. The chance to explain, to ask her forgiveness, burns inside him, alongside the dormant passion he's never forgotten and a long-held love that will no longer be denied.
Cassandra Dean, author of the bestselling Teach Me, entices readers once more with a tale of passion, love and second chances.

~ Excerpt ~
…coming soon…