Hi peeps.
The following are books I've loved in one way or another. I've compiled them here, to give you an idea of my inspirations and those who I think do a really fricking awesome job with story and words and stuff. I've enabled comments on this page, so feel free to comment on the selection, or maybe even your favourites.
Enjoy!
=========================================================
Loretta Chase is one of my very favourite authors, and with Lord of Scoundrels she hits it out of the park. A tormented, bull-headed, high-strung hero who is head over heels for the heroine and totally unaware of it? A strong, no-nonsense, practical heroine, who is utterly mad for the hero but will bash him about the head when he's being an idiot? HOW COULD I NOT LOVE THIS STORY TO PIECES?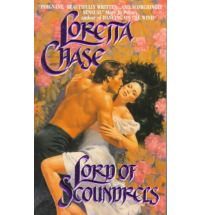 They call him many names but Angelic isn't one of them…
Sebastian Ballister, the notorious Marquess of Dain, is big, bad, and dangerous to know. No respectable woman would have anything to do with the "Bane and Blight of the Ballisters"–and he wants nothing to do with respectable women. He's determined to continue doing what he does best–sin and sin again–and all that's going swimmingly, thank you…until the day a shop door opens and she walks in.
She's too intelligent to fall for the worst man in the world…
Jessica Trent is a determined young woman, and she's going to drag her imbecile brother off the road to ruin, no matter what it takes. If saving him–and with him, her family and future–means taking on the devil himself, she won't back down. The trouble is, the devil in question is so shockingly irresistible, and the person who needs the most saving is–herself!
(The Guardians Series)
I admire Meljean Brook so much. She's created two fascinating and intricate worlds within the construct of our own, and I can't wait to read more! It all started for me with the story of a demonic heroine who always lies and an angelic hero who can see nothing but truth. Throw in a war between Heaven and Hell, and I'm totally hooked!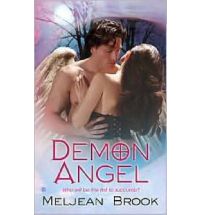 For two thousand years, Lilith wrought vengeance upon the evil and the damned, gathering souls for her father's armies Below and proving her fealty to her Underworld liege. Bound by a bargain with the devil and forbidden to feel pleasure, she draws upon her dark powers and serpentine grace to lead men into temptation. That is, until she faces her greatest temptation—Heaven's own Sir Hugh Castleford…
Once a knight and now a Guardian, Hugh spent centuries battling demons—and the cursed, blood-drinking nosferatu. His purpose has always been to thwart the demon Lilith, even as he battles his treacherous hunger for her. But when a deadly alliance unleashes a threat to both humans and Guardians in modern-day San Francisco, angel and demon must fight together against unholy evil—and against a desire that has been too long denied…
Who will be the first to succumb?
(Nadia Stafford Book 1)
I really liked Kelley Armstrong's Otherworld series, but when this book came out I fell in love with it. Sincerely. Deeply. Crazily. I bought it while on holiday in England, and by the time my trip was finished three months later, I'd read it about four times. SINCERE, DEEP, CRAZY LOVE.
The last book in the series will be out sometime next year and I cannot wait. Seriously. It's a sickness.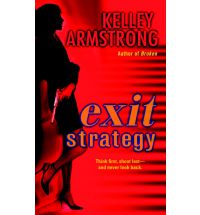 Law enforcement is in Nadia Stafford's blood. She comes from a long line of police officers, and was one herself until the wrong case sent her over the line from cop to killer. Now, to keep her beloved wilderness lodge afloat, she's a contract killer for a small Mafia family.
When a serial killer with all the earmarks of a hit-man begins murdering innocent people, the police investigation threatens to unmask Nadia and others, and she bands together with a small group of hitmen, including her mentor–the mysterious Jack. But once the killer realizes who's on his trail, his simple plan twists into a complex game as both sides fight to prove who is the hunter…and who the prey.
(Lee and Taro Series Book 1)
I found this series through the recommendation of The Book Smugglers and I'm so glad I listened! Moira J. Moore has a wonderful voice, and I LOVE her heroine Lee – an unreliable narrator! I LOVE this trope, and it's expertly done here. The final book in the series looks like it will be self-published, and I can't wait!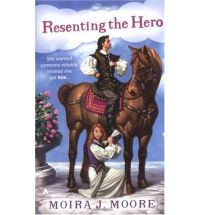 In a realm beset by natural disasters, only the magical abilities of the bonded Pairs—Source and Shield—make the land habitable and keep the citizenry safe. The ties that bind them are far beyond the relationships between lovers or kin—and last their entire lives…
Whether they like it or not.
Since she was a child, Dunleavy Mallorough has been nurturing her talents as a Shield, preparing for her day of bonding. Unfortunately, fate decrees Lee's partner to be the legendary, handsome, and unbearably self-assured Lord Shintaro Karish. Sure, he cuts a fine figure with his aristocratic airs and undeniable courage. But Karish's popularity and notoriety—in bed and out—make him the last Source Lee ever wanted to be stuck with.
The duo is assigned to High Scape, a city so besieged by disaster that seven bonded pairs are needed to combat it. But when an inexplicable force strikes down every other Source and Shield, Lee and Karish must put aside their differences in order to defeat something even more unnatural than their reluctant affections for each other…
Charlotte Stein has such a distinctive style, amusing and self-depricating and hilarious. And I've just used two adjectives that essentially mean the same thing. Well done, Cassandra. Allegedly you are good with words and stuff. THERE IS NO EVIDENCE OF THAT HERE.
…
Anyway, Charolotte writes Teh Sexy Times like nobody's business. Her heroines are strong ladies who delight in taking the upper hand, even as they question themselves constantly, and her heroes are strong beta males who love these ladies for taking them firmly in hand (heh).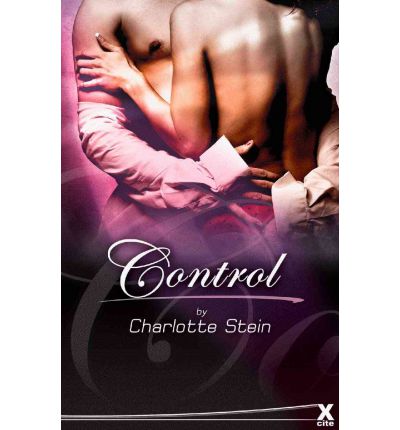 When Madison Morris decides to hire an assistant to help run her naughty bookshop, she gets a lot more than she bargained for. Aggressive Andy doesn't quite make the grade, but continues to push her buttons in other areas, while uptight and utterly repressed Gabriel can't quite take Madison's training techniques. One makes her grasp control, while the other makes her lose it. But the lines are blurring and she's no longer sure who's leading and who's following. In the midst of kinky threesomes and power plays, can Madison work out what she really wants?
Amazon | Book Depository
Also available in e-book
(Pennyroyal Green Series Book 2)
I'm a sucker for a story that offers a different twist. Julie Anne Long offers the story of a spoiled society princess who, due to a twist of fate, must now seek a wealthy husband. Her hero is the man she once dismissed and never thought twice about. FUN ABOUNDS.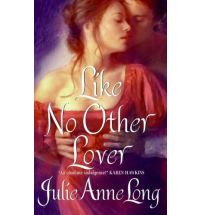 It's the last chance for Cynthia Brightly, the ton's most bewitching belle. Driven out of London by a secret scandal, she must find a grand husband at the Redmonds' house party before word of her downfall spreads all over England. Unfortunately, someone at Pennyroyal Green is already privy to the whispers of broken engagements and dueling lovers: Miles Redmond, renowned explorer and—thanks to his brother's disappearance—heir to the family's enormous fortune.
Miles set his sights on Cynthia once, at a time when the ambitious beauty thought herself too good for a second son. But now he's the heir apparent, relishing in his control. He strikes a bargain with her: he'll keep Cynthia's steamy secrets and help her find a husband among the guests—in exchange for a single kiss.
What could be the harm in a simple kiss? Cynthia is about to discover that it's enough to unleash fierce passion-and that Miles Redmond is most certainly like no other lover in the world.
Mainly because a one-year-old I spend a lot of time with quite likes it.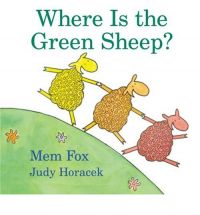 There are red sheep and blue sheep, wind sheep and wave sheep, scared sheep and brave sheep, but where is the green sheep?
I remember reading this book as a child and thinking it super cool, but super scary. A few years ago, I read it as an adult and was blown away by the complexity and depth contained in 11 sentences. It's an amazing story, and I'll often visit where the wild things are.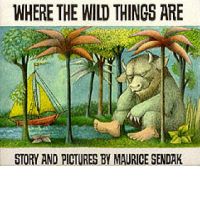 The story of Max's adventures when he sails away to the land where the wild things are has become an acknowledged classic of children's books.
Anyone who has spent more than five seconds on my site would be aware of my love for Joss Whedon. More than anyone, he's immensely influenced my own writing, and has been constant source of inspiration to me* Though not an author of the books, his television shows, web shows, comic books and movies (The Avengers! Go see it! And I can't wait to see The Cabin in the Woods!) have taught me more about this craft of ours# than any other help book out there. I highly recommend watching his work, and then listening to his commentaries for an insane amount of fried gold advice. Start with Buffy, The Vampire Slayer, make sure you include Firefly, and finish with a trip to the cinemas to see The Avengers.
*Except for when he brings the awesome and makes me throw my hands up in despair, crying "Why do I bother? Why? THAT WAS JUST TOO GOOD."
#Of course I'm in the same class as Joss. Pshaw, how dare you even question me??? See how I call him by his first name? WE ARE TOTALLY BEST FRIENDS